Gaining name recognition for our clients is what we do, and we're good at it. So why not try to spread the word of our own name?
Being included on Clutch does exactly that.
Viral in Nature has recently been included in ongoing coverage of leading social media marketing agencies across the nation. The feature is attributed to
Clutch
, a B2B ratings and reviews platform that focuses on identifying leading providers in the IT space, but also includes extensive coverage of agencies in the marketing industry. Clutch's mission is to aid buyers of services in selecting the best provider for their needs. Since being a part of their platform, Viral in Nature is proud to stand out as a strong agency with the full ability to deliver quality results to our clients.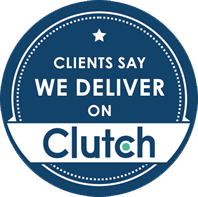 To be featured on Clutch, we had to prove ourselves through various evaluations. Clutch analysts first determined our market presence and "level of expertise" in the social media marketing industry by looking at the
services
we provide, the list of our esteemed clients, and examples of our completed projects.
Next, Clutch analysts spoke directly with our clients to gain an understanding of their experiences working with us. Understandably so, the reviews from our clients are the largest component to our placement on Clutch's rankings, which is why we're even more proud to be featured amongst the
top social media marketing firms
on their list.
Here are some excerpts from our client reviews, the full versions of which can be accessed through our
Clutch profile
.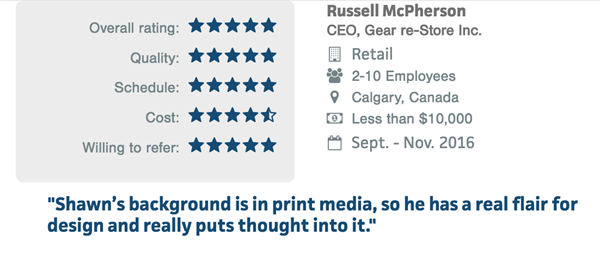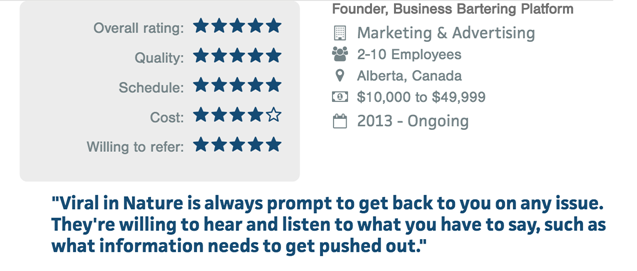 Getting the opportunity to receive such direct feedback from our clients through a third-party source is pretty unique for us and we're excited that the reviews we've received have been so positive. The team at Viral in Nature would like to thank our clients for taking the time to reflect on their experiences working with us so far. We are fully confident that the projects we're working on now will only elevate our placement on Clutch until we have the #1 spot on their list of top social media marketing firms.