Viral In Nature named as the 15th fastest growing company in Alberta by the annual Alberta Venture Magazine Fast Growth 50. We attribute our success to our social media and digital marketing strategy, the same social media program we sell to our customers.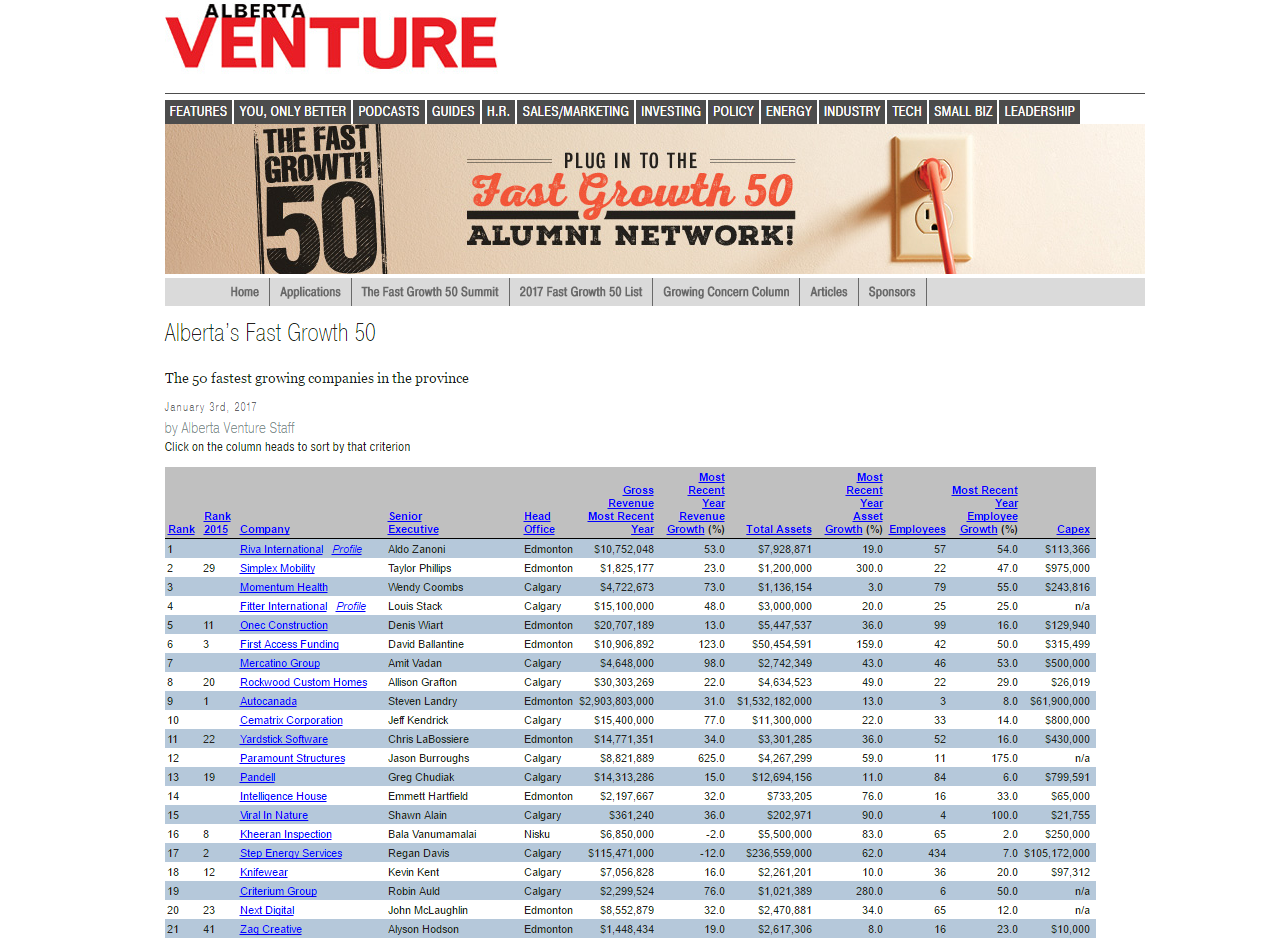 Edmonton, Alberta (January 4, 2017) – Which company increased their revenue by 625 per cent? Or had the largest increase in assets from the past year? Added to their workforce by 175 per cent? These are just some of the highlights from the fastest growing companies in the province. The January issue of Alberta Venture unveils the 2017 Fast Growth 50 list that represents remarkable growth and success throughout Alberta's business community. Yes, even through these tough years there are companies doing remarkably well.
Topping the list this year is
Riva International
, a leading provider of customer relationship management (CRM) and email integration. They experienced a 53 per cent jump in revenue from the most recent year-end and for the past seven years, Riva's revenue has grown at an average annual rate of 51 per cent.
The companies on this year's list had combined revenues of more than $5.3 billion growing their revenues by an average rate of 37 per cent, their assets by 33 per cent and their employee count by 22.8 per cent. We're pleased to feature all of them in our annual list of the province's fastest-growing companies, The Fast Growth 50.
"KPMG is proud to continue to support the Alberta Venture Fast Growth 50, recognizing the resilient and thriving businesses in Alberta. This program is an annual celebration of the great stories that often go unnoticed," says KPMG Enterprise Leader in Calgary, Dan Adams. "We believe in promoting and supporting the entrepreneurial spirit that drives our economy and helps build our communities. We're delighted to not only celebrate these great achievements but also continue to support all Alberta businesses as they grow and dream bigger."
The Fast Growth 50 Conference and Awards will be held on Thursday, February 23 at the Westin Calgary. The event is themed Ready to Bounce Back and helps growing businesses position themselves as the economy recovers. The conference offers interactive workshops, dynamic presentations and is followed by a networking reception. We'll also recognize the Fast Growth 50 list-makers at an awards reception, which the media are invited to attend on February 23 at 6:00 pm at the Westin Calgary. To confirm your attendance, call 1-866-227-4276 ext. 244 or
This email address is being protected from spambots. You need JavaScript enabled to view it.
For more information or interviews contact:
Michael Ganley
Editor, Alberta Venture
1-866-227-4276
This email address is being protected from spambots. You need JavaScript enabled to view it.